I really feel on a roll with this dress. The skirt looks really great, so much zig-zaggy, chevrony goodness! But this little number needs to be lined and my coral colored silk is not in yet! Are my problem bourgeois or what???? But the show must go on....
While waiting for me fabric to come in, I still feel the urge to sew. Lately I've been inspired by these Anthropologie and ModCloth everything dresses that are mismatched but stay coordinated: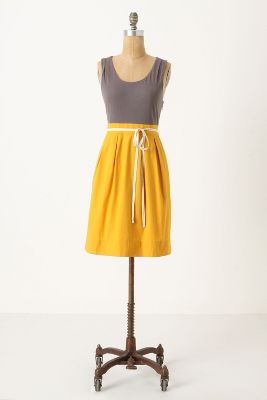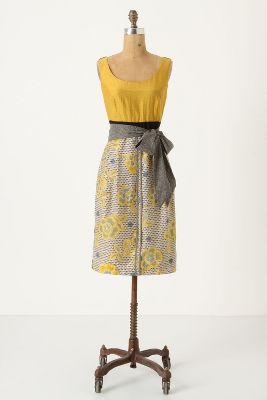 I wanted to make my own! Instead of starting from scratch and trying to make something look like two dresses slapped together, though, I decided to do actually slap two things together. I went thrift shopping for two pieces with so much potential it makes you sick. Mission accomplished.
I wanted something I could wear to work, and I wasn't ready to completely throw myself into the colors of summer
...Stupid summer, so far away...
So here's what I found. The dress itself:
Pretty cute, but it's also pretty busty, I really don't like those little ties on the sleeves, and all in all it's a little big. But navy is my second favorite color to wear and it was only $7.92. What a bargain!
My first favorite color to wear is plum, and I just so happened to find a plum top for this experiment of mine:
The sleeve coverage is much more suitable for the work place, as is the bust coverage. On it's own the top is "short and wide", the worst quality any shirt can have. Just ask my friend Emily, we decided this a long time ago.
So how these two will come together is to be determined. I don't want to lose this pretty detail on the back of the dress, that will be the challenge.
Note: The lining fabric may not be in before the end of the month, so I might—once again—fall behind on my sewing deadline goals. This Mix and Match dress will be my offering.